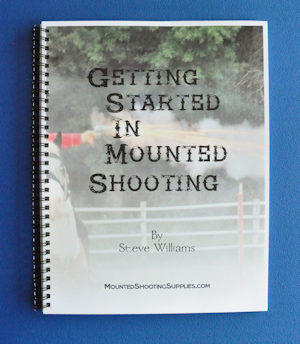 Getting Started in Mounted Shooting
This Book provides an excellent overview of the Sport of Mounted Shooting. Sections cover; The Rider, The Horse, The Guns, The Courses and a step by step explanation of riding in an actual event. Easy to understand and colorful illustrations & pictures. This book will answer most questions that the prospective new Mounted Shooter has, plus lots of useful tips on how to get started.
Getting Started in Mounted Shooting is a 27 page informative book to help you "Get up to Speed" quickly. It provides a complete overview that will be valuable to anyone interested in Mounted Shooting. The book covers the Rider, Horse, Guns, Courses, Clothing requirements and leads you through an actual event. Includes useful links saving you a lot of time and costs in getting started in Mounted Shooting. Full-Size pages with excellent information & graphics.