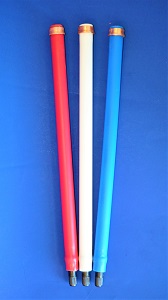 Shooting Stars Pro - Balloon Air Sticks = Set 10
Pro Event Duty Balloon Sticks, 12" Long - fits standard 3/4" PVC Poles. (sold separately). For use with air compressor Valve Stem type Air Chucks. Features a "Easy Fit" flared metal Balloon Retention Ring - reduces balloon attach time aprox. 40% Set 10 - Choose Colors; Red, White, Blue or Mix colors.
Pro Balloon Stick 12 Inch long. ½ Inch Diameter Polyethylene tube. Features a flared metal ring fitting for ease of attaching and retention of the balloons on the stick - Reduces balloon attach time aprox. 30%. Balloon end is reinforced to withstand the rigors of high frequency event usage. Sold in sets of 10 and available in red, white or blue and mixed colors.