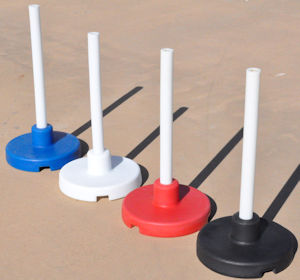 HCP Target Bases Set of 10 (W/pole Holder Tubes)
Set of 10 Target Bases, Includes 24" Socket tube (for holding 48" Balloon Poles - Sold Separately). Bases 14" Diameter, 2.5" High, weigh aprox 3.75 lbs. Hollow bases can be filled with sand for more weight if needed. For only a few dollars more than road cones, you can have a professional arena setup. Black sets in-stock. Color sets - special order Extra Cost, allow extra time for shipment. Large & Heavy Box Ships UPS = Lowest shipping cost. Black in Stock (Colored Inquire for delivery status).
Set of Ten Balloon Bases. Hollow design means they're light weight and portable. Bottom plug is easily removed to fill the bases with water or sand (if needed). Available in Black, (Special order = White, Red or Blue color.) Includes 2 ft. white heavy-duty Base Tube for holding a ¾" PVC Balloon Pole. (Sold separately) For a little extra $ over the cost of street cones, now you can have a First class mounted Shooting Arena set up. Box is large & heavy - Ships only by ground - Black Typically ships within 1 week or less. Color bases are special order, Extra Cost and require extra time.