Visual Tire Pressure Indicator Caps Set Four
Simplifies pre-trip check & "quick-check at Gas stops. Low Tire Pressure is the major cause of tire failure. Visual Tire Pressure monitoring caps can save you a lot of grief and cost and improve safety for you & your horses. Set of 4 or 6
VISUAL TIRE PRESSURE INDICATOR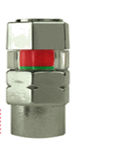 Product Description

Most trailer tire failures are caused by low air pressure. These tire pressure indicator caps simply replace the existing valve stem caps, making it easy to check tire pressures with a quick glance prior to departing or at gas stops. Visual Tire Pressure monitoring caps can save you a lot of grief and cost and improve safety for you & your horses.

Full green indicates the pressure is correct I.A.W. the cap designated pressure value

Partial green/red indicates that the tire is under-inflated by as little as 10%

Full red indicates that the tire is under-inflated by 25% or more

Product Features

Designed and Manufactured in the U.S.A.

Chrome plated brass - will not cause chemical reaction with valve stem

Sealed - airtight and watertight

Easy to install


Models Available

Car/SUV/Light Truck:

32 PSI

36 PSI

40 PSI

50 PSI

Medium Truck/Smaller Trailers

55 PSI

60 PSI

65 PSI

70 PSI

75 PSI

Heavier Trucks & Trailers

80 PSI

85 PSI

90 PSI

100 PSI

110 PSI

Check manufacturer's recommended tire pressure from vehicle data placard, then select appropriate tire pressure cap from chart.