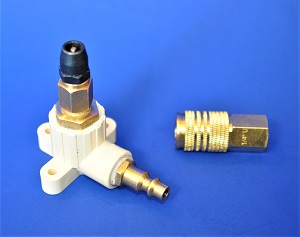 Balloon Sticks Air Nozzle - Fixed Mount
Balloon Sticks Inflation "Chuck" - attaches to table or fence for easy, fast balloon inflation. Automatic air flow when balloon stick air valve is inserted. Works with Balloon Sticks with Valve Stem.
Balloon Sticks air station is the simple solution for inflating balloons using the balloon sticks with an air valve (Valve Stem) & Air Compressor. Simply mount the air chuck to a Table or Board or fence and connect to the air hose. Air Flows only when Balloon Stick is depressed into nozzle.